December 4, 2017 – February 28, 2018
Doing Feminism / Sharing the World.
Artist in Residence Program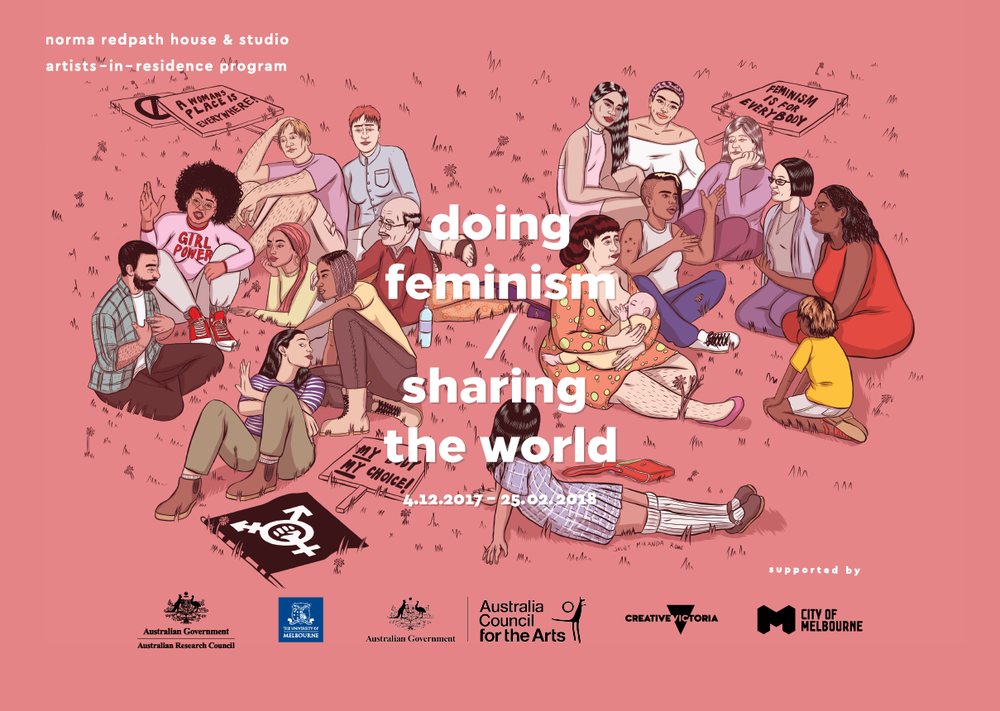 Doing Feminism / Sharing the World is a practice-based residency project including collaborative groups from across Australia. It explores participatory art practice and collective collaborations across three-months of residencies, performances, artists' talks, seminars, screenings and a cross-generational mentoring program with a focus on collaboration, participatory and public projects informed by a feminist ethics that address the theme 'sharing the world'. The program seeks to address a range of questions: What does it mean to 'do feminism', rather than 'be a feminist'? How do differences intervene in our relations with each other? What does it mean to 'share the world'?
LEVEL artist collective (QLD)
Sunday School (NSW)
Snapcat (WA)
Sisters Akousmatica (TAS)
Favour Economy (NSW)
Art/Mums Collective
FEMMO
Sleepover Club
Natalie Thomas & the Fitzroy High School Feminist Collective
The Two Cathies
ColourIN
The program will conclude with a 2-day symposium at the Victorian College of the Arts: February 22 and 23, 2018.
Keynote: Professor Clare Hemmings, Director of the Gender Institute at the London School of Economics and author of Why Stories Matter: The Political Grammar of Feminist Theory and Considering Emma Goldman: Feminist Political Ambivalence and Historical Imagination (Clare will be in residence for 2 weeks).

Keynote: A/Professor Jennifer Biddle, Director of Visual Anthropology & Visual Culture, and Senior Research Fellow at the National Institute for Experimental Arts, UNSW, and author of breasts, bodies, canvas: Central Desert Art as Experience and Remote Avant-garde: Aboriginal Art Under Occupation.